The first month of 2021 saw a continuation of 2020 trends — insufficient inventory compared to demand, faster market times than a year earlier, and persistently low mortgage rates — which combined, led to a new record median sales price of $454,000 in January.
Looking specifically at existing homes, the median sales price was at $443,500 in January, also a record, and an increase of 30.4% from last year. For many sellers, higher home prices usually mean greater equity, which can be used for another home purchase, to fund a business, send a child to college, or a variety of other opportunities.
For some buyers, the higher prices have caused affordability challenges, while others have found the low mortgage rates have increased their purchase power, helping them buy despite the rising prices. The average rate for a 30-year fixed mortgage was 2.73% in January 2021 compared to 3.60% last year.
Most buyers and sellers have also experienced a competitive, fast-paced market where offers and decisions must be made quickly.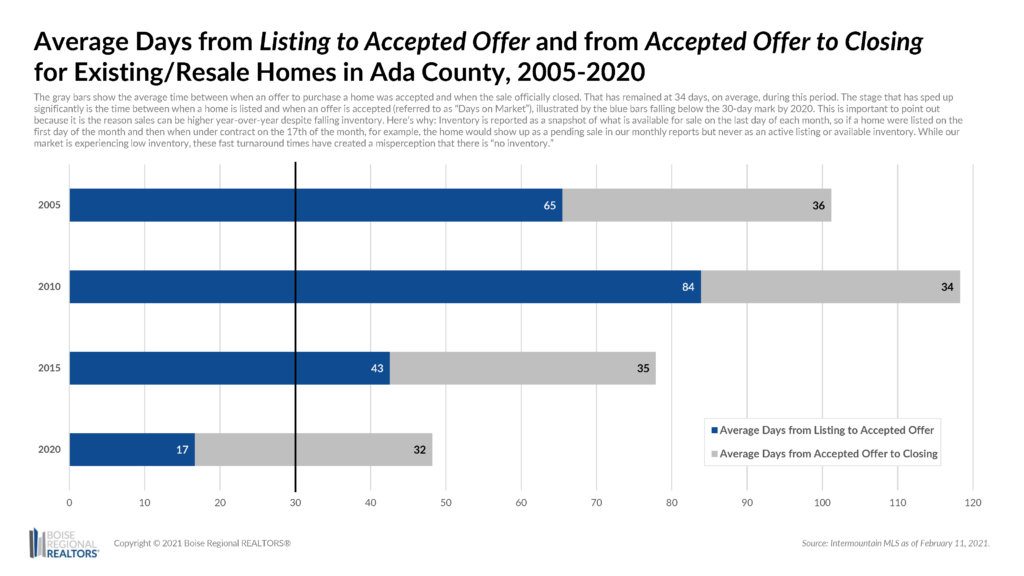 In the chart above, the gray bars show the average time between when an offer to purchase a home was accepted and when the sale officially closed. That has remained at 34 days, on average during this period, and is the stage in which the buyer and seller, with the help Danielle Warren, REALTOR®, lender, home inspector, and title company, work through the final mortgage approval, and any appraisals, home inspections, or repairs.
The stage that has sped up significantly is the time between when a home is listed and when an offer is accepted, as illustrated by the blue bars falling well below 30 days by 2020. This is important to point out because it is the reason sales can be higher year-over-year despite falling inventory. Here's why: Inventory is reported as a snapshot of what is available for sale on the last day of each month, so if a home were listed on the first day of the month and then when under contract on the 17th of the month, the home would show up as a pending sale in our monthly reports but never as an active listing or available inventory. While our market is experiencing low inventory, these fast turnaround times have created a misperception that there is "no inventory."
This acceleration has made the market feel frantic for many home buyers. In 2015, for example, after being listed a seller could expect to accept an offer in about 43 days, on average. Prior to then, they may have fielded multiple showings, had a few open houses, and had some buyers back for a second or third showing before receiving an offer. By 2020, that timeframe dropped to just 17 days, on average, meaning, if a buyer saw a home they liked, they may only have a few days, or hours even, to decide whether to make an offer as there were likely others interested.
In January 2021, that fell even further, as the average days on market for existing homes was at just 13 days — 66.7% faster than the same month last year.
To be competitive in these situations, many buyers have offered full list price or more, which is another reason the overall median sales price rose again. In January 2021, the percent of original list price received on existing home sales was 103.5%, compared to 97.2% in January 2020. This indicates that multiple offer situations are becoming more common, and buyers are willing to pay more to get an accepted offer. Among existing homes, the $400,000–$699,999 price range for existing homes was the most competitive, with the percent of original list price received reaching 104% or more, in January.
Also, as more buyers purchased existing homes at higher price points — with the biggest increase among homes selling for more than $700,000 — that further contributed to a higher median sales price in January. For example, in January 2020, just 5.5% of the existing homes that sold were for more than $700,000, compared to 15.8% in January 2021. This mix of homes sold had a significant impact in pushing up the overall median sales price for the county.
Market statistics are helpful indicators of the housing market overall, but what does the process of buying or selling look like for the individual?
Contact me to go over what the process will look like!
This report is provided by Boise Regional REALTORS® (BRR), a 501(c)(6) trade association, representing real estate professionals throughout the Boise region. Established in 1920, BRR is the largest local REALTOR® association in the state of Idaho, helping members achieve real estate success through ethics, professionalism, and connections. By: Cassie Zimmerman