The kitchen has taken on even more prominence in a home since the pandemic, as it has become a place not just for eating but for Zoom calls and schoolwork, too.
Realtor.com® recently asked top designers nationwide to chime in on some of the hottest kitchen trends of 2021. "We're seeing some dramatic shifts as a result of the pandemic," Janice Costa, president and founder of KB Designers Network, told realtor.com®.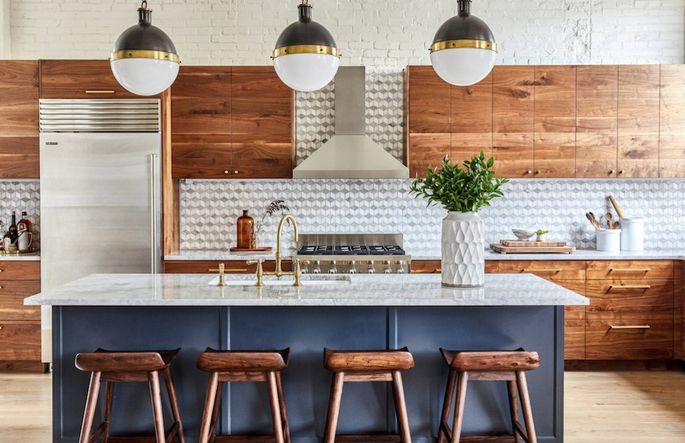 Here are a few highlights of new trends that designers noted:
1. Supersized kitchen islands.
The island has become a central place and focal point in the kitchen. It's not just a place for food preparation but also work, school, and a place for households to gather. That means the bigger, the better. Many new-home floor plans are incorporating larger islands into their new builds due to demand. Enlarging the kitchen island has also become a popular remodeling project since the pandemic.
"Larger kitchen islands are here to stay," Ariana Lovato, owner and principal designer of Honeycomb Home Design in Shell Beach, Calif., told realtor.com®. "People want to have as many workspaces as possible, with the kids now doing virtual school."
2. Wood finishes.
Natural wood finishes are making a comeback into the kitchen—a vintage trend dating back from the 1970s. Upgraded wood veneer paneling with subtle or light grain finishes are adding a natural element into kitchen designs, designers note. "For years, homeowners have been ripping out old wood paneling, but with a rise in affordable synthetic or engineered wood alternatives, the possibilities of adding wood are now endless," Georgina Borneman-Street, CEO and principal designer at Cobalt Blue 1802 in Los Angeles, told realtor.com®. "It's a nice mix of retro meets modern."
3. Handleless cabinetry
Keeping the cabinetry free of any hardware is becoming trendy, too. It can give kitchen cabinets a cleaner, futuristic look, and it can be easier to clean. "We've all heard the suggestion that adding hardware to cabinetry is considered an upgrade, but when done right, handleless design feels high-end," Borneman-Street told realtor.com®. "The totally seamless design creates an effortless flow throughout the kitchen."
Source: